Kalaw in Myanmar was in former British colonial times one of the favourite destinations for British residents and rich Burmese to escape the heat in summer months. The small town, located 1,320 m over the sea level, is only 70 km away from Shan capital Taunggyi. It is now benefitting of a restoration program thanks to local authorities and the support of Kalaw Heritage Hotel management.
The Shan State in Myanmar is mostly known for the serene beauty of Inle Lake. However, Shan State is more than the famed Lake and its incredible landscapes and its colourful traditions. Going from the capital city Taunggyi, Inle Lake is only 40 km away. From Inle Lake or Taunggy, it takes less than two hours to ride up to Kalaw.
About Kalaw
Kalaw is one of those fairy-tale like small towns. Like Dalat in Vietnam or Bokor in Cambodia, the resort town was created recently. Its official date of birth goes back only to the end of the 19th century. It was set up by the British colonial administration which wanted to create a peaceful place for British servants looking to escape the heat of the Shan State plateau.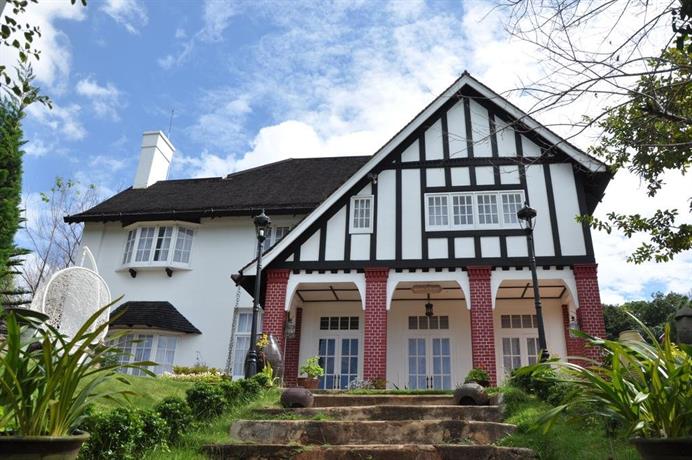 At an altitude of 1,320 metres, surrounded by pine hills, Kalaw is a scenic place to visit.
The city managed to preserve its British heritage with hundreds of bungalows dating from colonial times still visible all across the city.
Despite or maybe thanks to their state of decay, these villas built in typical Tudor style exult a special charm. Many of them are surrounded by manicured gardens where roses continue to grow. Just like in Britain! With its pictorial traditional markets, its churches facing temples, old shaky trains crisscrossing hilly landscapes -some covered with vineyards-, the small hill town is a perfect destination for a two-day stopover between Inle Lake and Mandalay or Bagan.
The Kalaw Heritage Hotel
In recent years, initiatives to preserve the British heritage of Kalaw have multiplied under the impulsion of Kalaw luxurious colonial hotel, the Kalaw Heritage Hotel. The property is the second oldest hotel of Myanmar after the Strand in Yangon.
Belonging until the 1960s to an Indian businessman, then nationalized by the Burmese government, the hotel was run down until some Singaporean investors came in and gave a welcome facelift to the property.
It is now Kalaw best hotel and a fine example of old England in a tropical land. Three colonial pavilions form the hotel, giving the impression to be decades away from the 21st century… All the rooms are furnished in colonial style. Hotel owners have also conducted awareness campaigns with local populations and the government to help to preserve Kalaw from any quick development.
A trekking destination
Local people and local authorities want now to turn Kalaw into a wellness and trekking destination. The hill resort station is already well known for its trekking trails across pine forests with its ideal refreshing climate. Other activities are agro-tourism and wine tourism, although due to the excellent climate.
The region stretching from Taunggyi to Kalaw has some vineyards such as the Red Mountain Estate at Nyaung Shwe and the Aythaya Estate in Taunggyi.
Sports activities
Sports activities are now being developed besides trekking. Kalaw organises a yearly marathon but also horse riding and cycling. Once over, why not to enjoy a massage in the serene atmosphere of a hotel resort or a spa centre?
Preserve the cultural roots
Local communities are also getting aware of the necessity to keep the city clean, to avoid unnecessary rubbish in streets, to preserve their cultural roots. Kalaw is indeed not only British colonial heritage. Kalaw is home to various ethnics, the most important being the Palaung people.
A sacred area for locals is Pindaya's limestone caves with its thousand of Buddha Images. In Kalaw itself, Thein Taung Monastery aligns its immaculate stupas and offers a panoramic view of the whole town. Back in the streets of the city, a must-do experience is to eat a bowl of Shan noodles accompanied by a glass of Red Mountain Estate wine!
The community
As the city was mostly populated by British expatriates, there is a sizeable Indian and Nepali community which used to be in the British Army or worked in the construction of the railway in the past and settled decades ago in Kalaw. All these communities turn Kalaw into an interesting cosmopolitan place where all ethnics are living actually in good harmony.
---
Baolau offers domestic and international flights to Myanmar. Passengers can book tickets online, receive e-ticket and get ready to travel.